Knowing the location of your sprinkler valve boxes in your yard is important for a few reasons:
Maintenance
Sprinkler valve boxes contain important components that help regulate water flow to your sprinkler system including electrical components like the solenoid. Knowing where your valves are located makes it easier to perform routine maintenance which will save you money. Letting grass grow over them is not the best idea unless you record location with a picture or on a survey like the picture below. You valves will require service because they will eventually wear out or have electrical problems.
Troubleshooting
If you experience issues with your sprinkler system, such as low water pressure or a zone that won't turn off, you may need to access the valve boxes to diagnose and fix the problem.
You can also find the wiring inside the valve which can also be used to troubleshoot. Some valves let you turn on manually with an external bleed screw.
 Landscaping
When planning landscaping projects, it's important to know the location of your sprinkler valve boxes so that you can avoid damaging them or disrupting the flow of water to your sprinkler system and causing damage.
Solution
Get a copy of your home property survey and mark location of valve boxes with a red pen.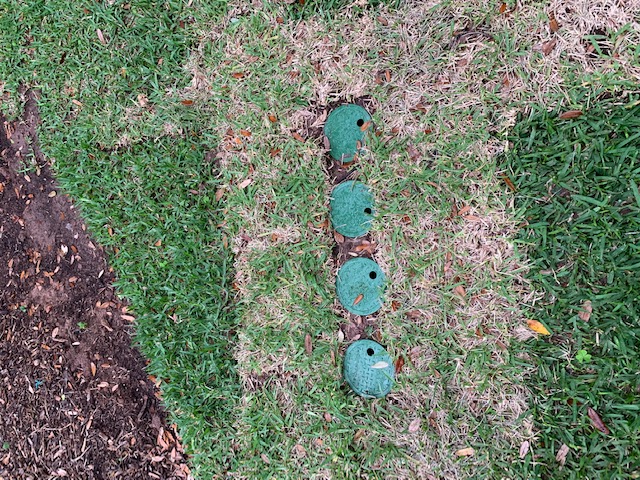 Put a copy next to the sprinkler controller for future reference if your home ever gets serviced. It could save you a lot of money trying to find them later. Put location of rain sensor, backflow and anything important that you know like cable lines.
Overall, knowing the location of your sprinkler valve boxes can help you keep your sprinkler system in good working order and avoid potential issues.
Call us at 281-494-3700 or request an appointment online if you have questions or need to schedule service to find your valves.