Weather is on a cool down in Houston. In the latter part of October, the weather should be beautiful with colder mornings and warm afternoons. The 90's high temperatures should be gone for the year. It is the best time of year for those spending time outside. We have some simple watering recommendations for you.
Most areas still in Houston are still very dry.
We are still very dry for the year, see the chart below for details. Since June, we have been at a deficit. Some areas are down over 10″ of rain.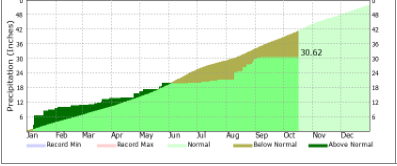 Some areas in Houston are still in Drought Contingency Plans.
Check with your local water provider for specific guidelines regarding time of day and day per week watering restrictions in your area. Please see the chart for the year to date rain at Houston Intercontinental Airport.
Update your controller settings with our simple watering recommendations.
2 days a week watering schedule.  These are only suggestions, you know your yard best. Rotor heads need to run at least twice as long as spray heads. See pictures below. They put out less water because they rotate. Fixed pattern spray heads water continuously.
Rotors 2 days a week= 20-30 minutes.
Spray Zones 2 days a week 10-15 minutes.
Drip Zones 2 days a week 30-40 minutes.
This is a Rain Bird rotor and averages .60″ per hour precipitation  rate.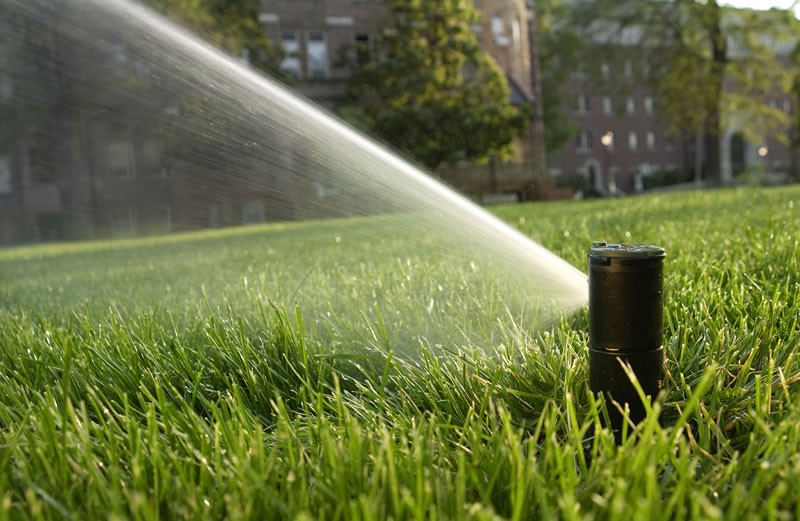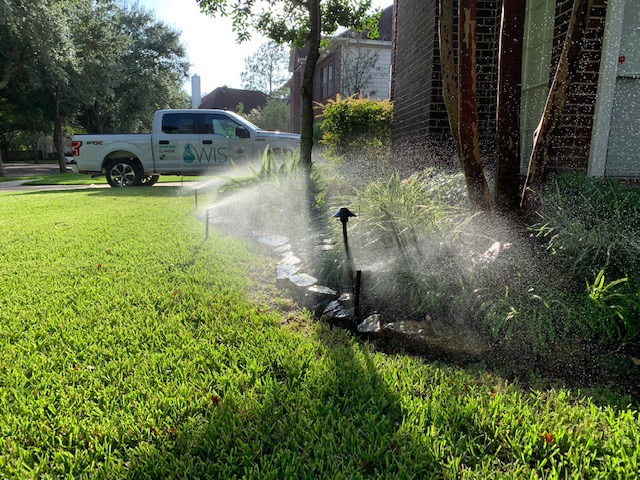 To the right is a Rain Bird nozzle with a precipitation rate of 1.5″ per hour.
Some areas may need less time like your backyard grass and sides of home. Deep watering is always the best to avoid run off. Some new plants may require more water to get established. Trees still need water year round. Your foundation needs water during a dry season so beware of shutting your system down too soon. The grass growing season has slowed and this winter will go dormant. The roots are still growing and it is a good time to put down some fertilizer to keep healthy for next year.
The fall is a great time to plant.
Landscapers are busy this time of year. New shrubs and other new plants may need extra hand watering. Roots need to get established before January, Houston's coldest month. We have several great options including no interest financing if you want to update or add a new section to existing system. We would be happy to have a technician come out to check your sprinkler system and adjust your controller settings for the season. Request an appointment or call 281-494-3700 to make an appointment.