Referral Rewards are a way for us to say "Thank you" for spreading the word. Just refer any new client to us, and we will automatically send you a referral reward certificate. This is a great way to earn cash. We are so thankful to have help spreading the word about our services and telling of your experience with our company.
Refer a new client and we will send you 10% of the repair service or 5% of any installation or modification.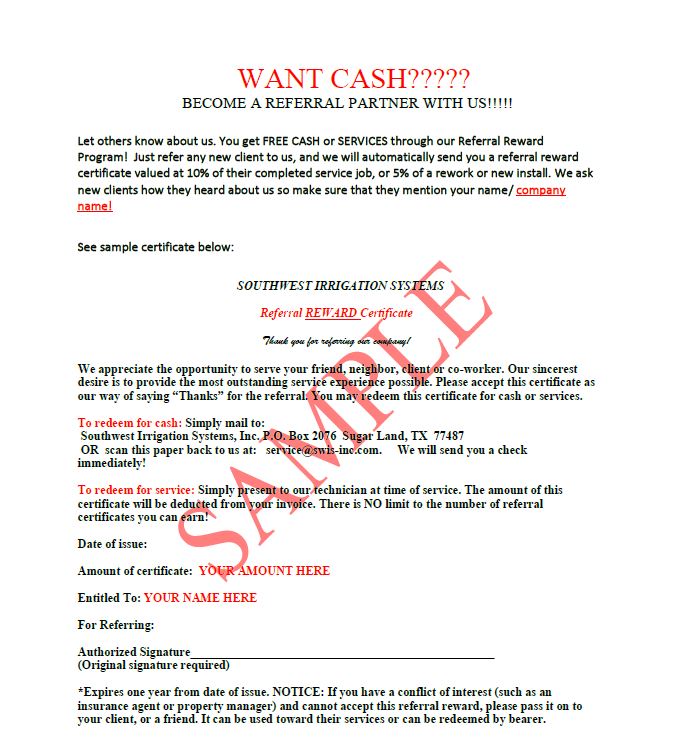 You can use it towards your system's repairs or get a check addressed to you back in the mail. Ask them to mention your name when they call to schedule a repair or a free estimate for installations. This is good for all of our services: Sprinklers, Drainage, and Outdoor Landscape Lighting services. Take a look at this sample reward certificate that you could receive! We are looking forward to a way to give back to you.
There are many reasons to refer your neighbors, friends and family to Southwest Irrigation Systems
SWIS Mission Statement!
To provide the most extraordinary service experience ever
SWIS Values – Water and Integrity
Winning attitude! Accountability! Teamwork! Effort! Respect!
SWIS Purpose: To positively impact our customers, team members and community!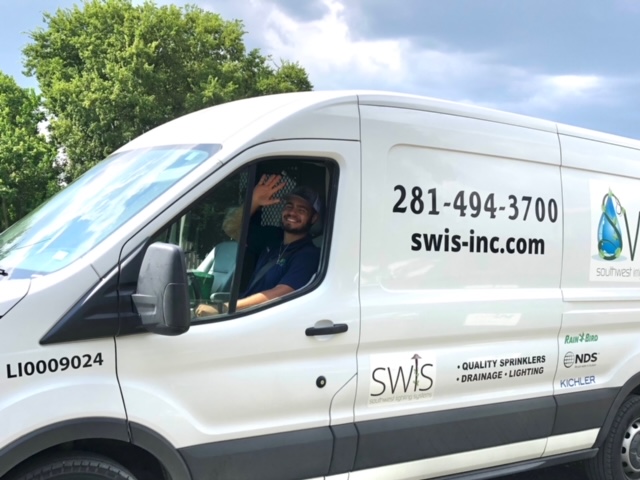 Something to keep in mind is that we are Locally Owned and Operated. We are consistently trained in the Intelligent use of water. We have a contagious, winning culture and love our customers.
What to expect from our company
We carry workers compensation and liability insurance for your protection.
Our technicians are background checked and drug tested.
Our technicians are uniformed, and company trucks are marked clearly with SWIS logos.
Our technicians are licensed with the State of Texas.
Our technicians are continuously trained in Sprinklers, Drainage and Lighting best practices.
We carry the best equipment to be efficient with our time and fix the problem correctly.
We carry the highest quality parts to help your system run longer and more effectively.
If you would like to schedule a free estimate for new system installations or any repairs please call 281-494-3700 or request an appointment.